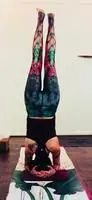 Lydee is a Licensed Marriage & Family Therapist and Certified Substance Abuse Counselor specializing in individual, couples and family therapy. She maintains a private practice in Makawao, Maui, Hawaii.
With 15 years experience in the mental health profession, Lydee is trained in several modalities including EMDR, Emotionally Focused Therapy, Cognitive Behavioral Therapy, group psychotherapy, and more. Her areas of expertise comprises helping people to empower themselves, working with the Co-occurring Disorder population (mental illness and addiction), and marriage counseling, especially in the area of attachment injuries.
For over 10 years, Lydee worked as a counselor at the Co-occurring Disorders outpatient program for Aloha House, which she began in 2005, under Bob Lanser, LCSW. She also facilitated psychotherapy and psychoeducational groups for Maui Drug Court since 2005, and was an Intensive Family Therapist for Family Court Drug Court on Maui.

Prior to becoming an LMFT, Lydee earned a B.A. degree in Journalism and worked as a newspaper reporter and created educational vignettes for radio. She has written articles on marriage and relationships, and reported on the crystal methamphetamine epidemic on Maui for local publications. She specialized in Public Relations for resorts, destinations, events, and activities on Maui.
Lydee is an interactive, CBT, EFT, and spiritually-focused therapist. Her therapeutic approach is to provide support and practical feedback to help clients effectively address personal life challenges. She integrates complementary methodologies and techniques, including meditation, visualization (similar to hypnotherapy), and energy work to offer a highly personalized approach tailored to each client. With compassion and understanding, she works with each individual to help them build on their strengths and attain the personal growth they are committed to accomplishing.
Education: Argosy University, UC Berkeley, University of Hawaii at Manoa

License, Certifications & Awards: Licensed Marriage Family Therapist, Certified Substance Abuse Counselor.
Additional Work: formerly professional musician

Professional Activities and Memberships: ICEEFT, AGPA